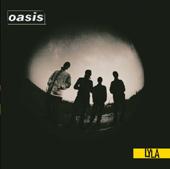 Oasis
-
"Lyla"
(Ooh, I figured out how to put a pic up!)
I haven't liked an Oasis single since 1997's "D'Ya Know What I Mean," so I must admit to being surprised that this has grown on me so much. Like most of
Noel Gallagher
's best songs, "Lyla" is a complete ripoff of someone else's work. The melody of the opening verse is a complete nick of the
Rolling Stones
' "Street Fighting Man," and the rest of the song sounds like it was borrowed from
The Who
and
Soundtrack of Our Lives
. The thievery is besides the point--it's just good to have Oasis back is somewhat fighting form. Now we just need more outlandish Noel Gallagher interviews.